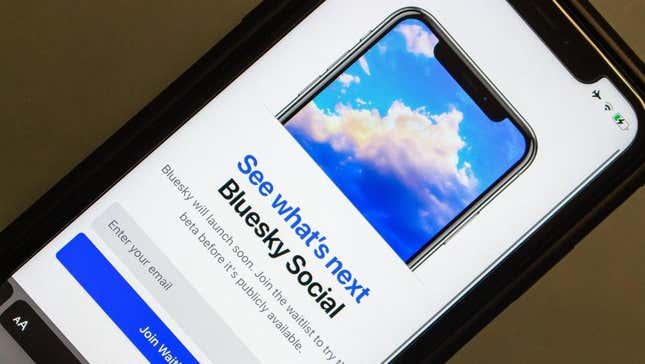 In 2022, Twitter co-founder Jack Dorsey left the company. One of his new projects, Bluesky, is a social media app that looks exactly like Twitter. The difference? Bluesky promises an unprecedented level of control over your scrolling experience. The goal, essentially, is to undo all of Dorsey's self-described mistakes, fixing social media and maybe, pie-in-the-sky hopefully, the whole internet in the process. The company's first step to that lofty goal is doing the work in public. If you know where to look, you can watch Bluesky try to save the online world in real time.
Video Chat - From Sci-Fi to Sci-Fact
Bluesky could transform the web—or it could just wind up as a forgotten Wikipedia entry. On Wednesday afternoon, Paul Frazee, a protocol engineer at Bluesky, told viewers, "It's time. Let's rock y'all, welcome to the livestream." Frazee had hopped on YouTube to stream his own coding. He was building one the app's most sea-changing features in front of a live audience: custom algorithms that will let users create their own personalized feeds. He seemed more interested in his viewer's opinions on the app's design than his own.
Less than 40 people watched the stream at any given moment. Frazee, a cheery coder with bright red hair who always seems in on the joke, was casual as can be. He's become the public face of Bluesky within the app—answering users' technical questions, chiming in on memes, and giving progress updates on the app's construction.

At a glance, you wouldn't know he was building a tool that's supposed to right society's sinking ship. And unlike other tech companies who fight hard to maintain an image as a unified, unimpeachable front, Bluesky wants you to know it's just a bunch of people, people who want your input. "One of the reasons I really wanted to do this with y'all is I wanted your feedback as we're shaping the final calls," Frazee said on the stream.

Social media feeds are run by an algorithms that use artificial intelligence and a bunch of complicated logic to decide what content to show you. "Custom algorithms are a way for users to create these things," Frazee said. "Normally algorithms get built by the companies that create social media websites." (Bluesky declined to comment for this story.)

Putting users in charge of their feeds is a radical idea. Nearly all of the problems of social media companies come down to decisions about the algorithms that rank and sort users' feeds. The algorithm decides what gets "censored" and what gets promoted. The algorithm decides whether Democrats and Republics see each other complain. The algorithm decides whether you see posts about politics or cat videos. And, in general, the company decides how the algorithm works. Because these companies are ad-driven businesses, they tune their algorithms to try and keep you staring at their apps—and their ads—at all costs.

You've got some input. The like, follow, and mute buttons all affect the composition of the feed. But these are blunt levers with no obvious or guaranteed effect. It's like you're watching TV at Mark Zuckerberg's house, and he's got the remote. Across most of the internet, you've got little to no say on the content that lights up your phone and fills your mind.

Bluesky promises social media salvation—someday.
Bluesky isn't a finished product, not by a longshot. It's available to a growing but limited number of users in a often-glitchy beta release. For the time being, you can't join without an invitation, a manufactured scarcity that's made Bluesky the hottest place to be extremely online in recent weeks. Invite codes sell for hundreds of dollars on eBay. Pundits celebrate Bluesky for capturing the vibes of Twitter's glory days.

It's now a hopeful retreat for many of Twitter's cliquey power users who find the bird app increasingly hostile. Bluesky has become a safe haven for a community of self-described trans shitposters, for example. Feeds blossom with fast moving in-jokes and the frenetic, positive energy of an app in the honeymoon stage where everybody's still having fun. Users have decided a Bluesky post is called a "skeet," despite the company begging them to come up with something else. For a few days, the "What's Hot" feed that shows the app's more popular posts was dominated by images of a naked and somehow incredibly slutty Alf, the alien puppet from the '80s TV sitcom that bears his name.

It's a fun ride, but Frazee and his colleagues haven't delivered Bluesky's most transformative features yet. There's no telling whether they'll succeed when they finally arrive, either.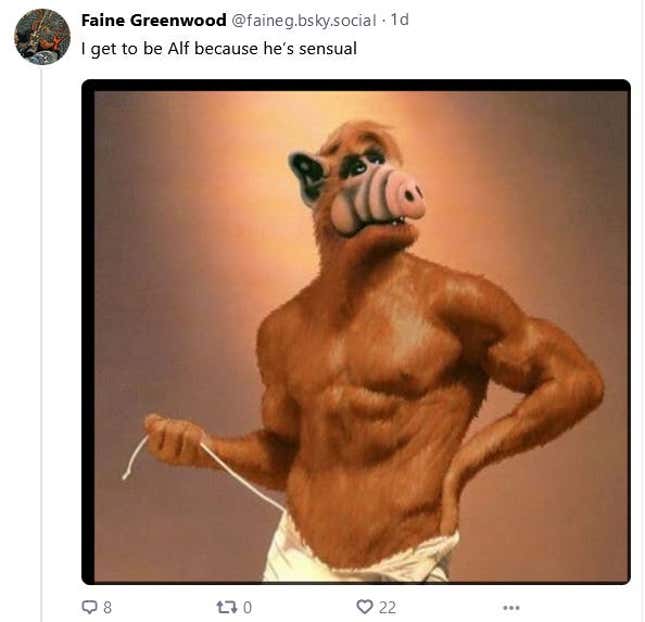 Jack Dorsey spent years wielding algorithmic authority over Twitter, an app that's seen as the country's "public square," reasonably or not. By the end of his run, Dorsey decided that's a power that no one should have.

"The biggest mistake I made was continuing to invest in building tools for us to manage the public conversation, versus building tools for the people using Twitter to easily manage it for themselves," Dorsey said in December, 2022 on Revue, Twitter's newsletter platform.

Dorsey's post came in response to Elon Musk's Twitter Files, a self- important "exposé" of Twitter's internal conversations when it banned former President Trump for stoking the January 6th insurrection, and when it stopped the spread of a New York Post story on Hunter Biden's laptop. (The Twitter files revealed little aside from the fact that Twitter employees took the decisions seriously.)
"I generally think companies have become far too powerful, and that became completely clear to me with our suspension of Trump's account," Dorsey said. "As I've said before, we did the right thing for the public company business at the time, but the wrong thing for the internet and society."

Instead, Dorsey said decisions around content moderation should be made by the users. It's the users who should control the algorithms, not companies, and only a user should be able to delete their posts or shutter their account, with few exceptions. Dorsey's post was a manifesto, a look back at what went wrong and a utopian vision for the future, for Bluesky.
Elon Musk, who calls himself a "free speech absolutist," shut down the Revue platform, where Dorsey had published his musings, immediately after Dorsey's post. The content is preserved by the Internet Archive.

A Blueskied vision of the future
Bluesky is an attempt to build out Dorsey's dream, but it's not the only Twitter alternative. It's not even Dorsey's favorite. In the early days of Musk's Twitter, some users flocked to Mastodon, a tediously complicated social media platform that's also designed so users control the service. Meta's working on its own Twitter competitor, and Dorsey tends to hang out more often on Nostr, another Twitteresque social site that also has his financial support. Dorsey posts on Nostr about 60 times a day.

But for now, Bluesky is the most promising option, and easily the sexiest when it comes to internet clout. Custom algorithms aren't available yet, but the app offers some impressive innovations.

The exhausting debate over verification and Elon's Blue Checks will never happen on Bluesky. If you want, you can add a line of code to your website to make your Bluesky username a URL (i.e. Gizmodo's handle is @gizmodo.com). That way, there's no need for Bluesky to decide you're important enough to verify because you verify yourself, and it's impossible without access to your web domain. With a little extra code, an organization can also verify its employees in the same way. The dumbest thing I will ever be proud of is the fact that I was the first journalist to get "verified" on Bluesky with the username @thomas.gizmodo.com.

One of the other big differentiators is the fact that Bluesky is building a decentralized protocol, which is word soup that you might remember from the days when your most annoying cousin made and lost a fortune on Bitcoin. That basically means Bluesky is making its code public and allowing anybody to build outside tools and services that integrate with the platform. That is pretty neat. It means you can keep your Bluesky username and all your followers and friends when you jump to another social media service that uses Bluseky's code. It also means you can build your own social media service with it, if you're a huge dork.

That solves one of the problems of the reigning social media champs: even if you absolutely hate Instagram or Twitter, it's hard to quit because they've got your network locked down. Bluesky offers a new flavor of online freedom.

And as Bluesky's privileged users wait for the custom algos, they've already got some tools to fine tune the experience. Bluesky has controls for content including porn, other kinds of nudity, violence, hate speech, spam, and even people impersonating other accounts. It's up to you whether you want to see this material, or if you want it hidden behind a warning or blocked all together. That's more agency than you get on the majority of social media sites.

Over on the live stream, Frazee worked through the custom feeds, carefully considering decisions, like where buttons should go, all the while asking users what they thought would work best. Right now, everyone seems to like him and his coworkers, but if their plan works, Bluesky will grow into a behemoth, and with power comes vitriol. People loved Facebook once, too.

You can't ask Mark Zuckerberg what that's like, but Frazee is right there. I dropped in on the chat to ask him if he thinks giving users more control will help stave off the haters.

"I don't know how to answer that," Frazee said, laughing as he read the question out loud. "Eventually people will have complaints, I'm sure. I hope that people don't end up hating us, but if they do, if they do we'll try to make sure we help out as many people as possible. And I'm emotionally prepared for that. You can't please everybody."