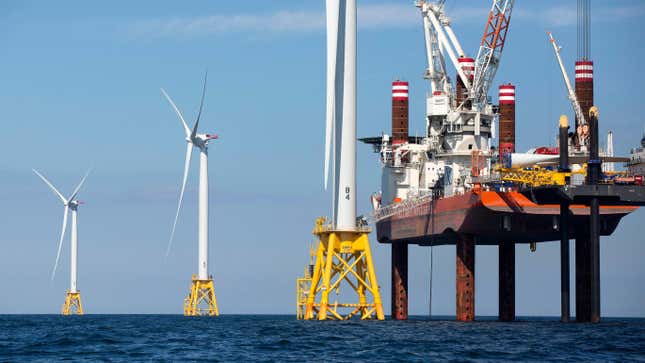 Renewable energy scored a big win this week in Massachusetts. A federal judge in the state's district court rejected a lawsuit brought by an alleged group of Nantucket residents, which sought to stop the first major U.S. offshore wind project from moving forward.

Rare Polar Bear Attack in Canada | Extreme Earth
Vineyard Wind, a $2.8 billion endeavor expected to generate enough energy to power 400,000 homes, was approved by Joe Biden in May 2021. But the proposal has faced multiple legal challenges since—from climate deniers, a solar company, and, of course, the NIMBYs. But now at least one of those hurdles has been cleared.
The nonprofit organization behind the now-closed case was Nantucket Residents Against Turbines (officially abbreviated ACK RATs—which, lol), and had support from the likes of former Trump adviser David Stevenson. As the plaintiff, ACK RATs argued that the proposed 84-turbine development could further imperil the endangered North Atlantic right whale and that federal agencies hadn't done enough to assess the future wind farm's impacts on wildlife. But science doesn't support those claims, and neither did presiding Judge Indira Talwani.
"Plaintiffs have failed to demonstrate that [National Marine Fisheries Service] and [Bureau of Ocean Energy Management] violated the Endangered Species Act or the National Environmental Policy Act...Plaintiff's Motion for Summary Judgement is DENIED," reads the Talwani's order, filed Thursday.
The only named members of ACK RATs in this case were Amy DiSibio, who owns a vacation home on Nantucket Island, and Vallorie Oliver, who is actually a lifelong, full-time resident of the island, according to the legal filing. "Plaintiffs have not identified any members of ACK RATs other than Oliver and DiSibio and has not provided any other information about its members," Talwani's order notes.
Yet even Oliver's claims didn't stand up to legal scrutiny, per the judge. "Oliver's strong ties to Nantucket and the ecosystem are not, in and of themselves, sufficient. Proximity does not equate to injury," she wrote.
Vineyard Wind was, of course, happy with the decision. "We're pleased the court has acknowledged the rigorous and thorough administrative review that our project underwent over the last many years," company CEO Klaus Moeller said in a statement to the Associated Press. "We remain committed to working with all stakeholders so that we can continue to set the highest possible standards on this first in the nation project."
Meanwhile, plaintiff Oliver indicated to the AP that ACK RATs is considering future actions. "Nantucket Residents Against Turbines is obviously disappointed in the ruling," she said. "We will be taking a few days to weigh our options going forward."
For now, both wind energy and whales have won. CEO Moeller has said that Vineyard Wind construction is set to begin "within weeks," according to The Martha's Vineyard Times. And—as with terrestrial turbines and birds—wind power is almost certain to help, not harm, whales in the long term.
The idea that offshore wind hurts whales is an increasingly common argument against renewable expansion touted by (often wealthy) not-in-my-backyard, anti-turbine activists who don't want their ocean views disrupted, as well as by fossil fuel interest groups. False narratives about whale deaths caused by turbines have gone viral among Facebook-posting conspiracy theorists. It has become a rallying point in a burgeoning GOP pseudo-environmentalism that seeks to keep dirty energy on the docket for as long as possible. But the concept remains unsupported by actual scientific research and assessment.
There is no evidence that offshore wind activities or development have ever killed a whale, according to the National Oceanic and Atmospheric Administration. The agency has been studying and working to minimize potential offshore wind impacts on North Atlantic right whales for more than a decade. Vineyard Wind, as with any other company undertaking large-scale construction projects in the ocean, is required to mitigate its threat to wildlife, in accordance with peer-reviewed research. For instance, the company has to ensure whales aren't in the area before they drive piles into the seafloor. They also have to abide by strict boat speed limits to reduce the chance of whale collisions (something that is actually known to kill whales).
The overwhelming scientific consensus is that climate change is one of the biggest threats to right whale survival. The marine mammals' food has shifted location and become scarce as the oceans have warmed, putting the endangered cetaceans further in harm's way. Effectively combatting climate change requires alternate, fossil fuel-free energy solutions—like offshore wind. Building up our green energy capacity is critical to protecting all wildlife, whales included.