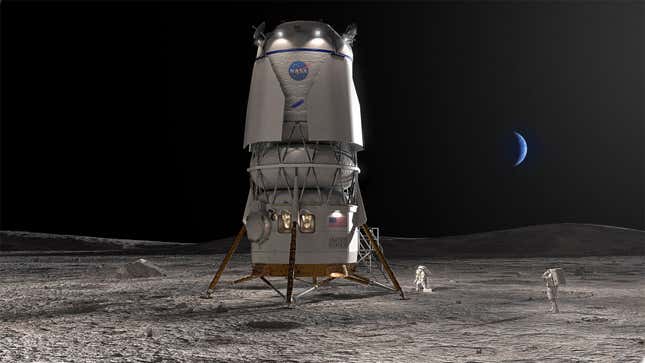 Jeff Bezos's dream has finally come true, as his aerospace company Blue Origin has been chosen by NASA to build a human landing system for Artemis 5 and subsequent missions to the lunar surface.
The space agency made the announcement Friday at a press event held at NASA headquarters in Washington, D.C. SpaceX is currently under contract to develop human landing systems (HLS) for Artemis 3 and Artemis 4, but NASA sought to issue a second lander award for an "additional, different lander," Bill Nelson, NASA administrator, told reporters.
"We want more competition—we want two landers—and that's better, and it means that you have reliability, you have back-ups," he explained. "It benefits NASA and it benefits the American people." This is the "the new way that we go to the Moon," Nelson said, adding that: "We're going back to the Moon in order to go to Mars and beyond—this is a major part of it."
Related article: Did NASA Forget How to Put People on the Moon?
The contract is worth $3.4 billion, and it will require Blue Origin to design, build, test, and verify the human landing system, but the Jeff Bezos-founded company won't go at it alone. Dubbed the National Team, Blue Origin will develop Blue Moon alongside Lockheed Martin, Boeing, Draper, Astrobotic, and Honeybee Robotics. The fully reusable four-person lander will be used for Artemis 5, which is currently scheduled for 2029.
Lisa Watson-Morgan, HLS manager at NASA, said the decision to go with two vendors creates a more "diversified industrial base" and that the space agency has confidence in the National Team and its approach. At the same time, steady insights from experts at NASA will help to ensure the success of Blue Moon, she added.
NASA issued its request for a second lunar lander in March 2022, but only two companies rose to the challenge, with Dynetics being the other one, said Jim Free, associate administrator for NASA's Exploration Systems Development Mission Directorate. Blue Origin and Dynetics both lost their previous bids to build lunar landers for Artemis 3 and 4, with SpaceX getting the contracts instead, which are valued at $2.89 billion and $1.15 billion respectively. For those crewed missions, SpaceX will use its Starship spacecraft to land humans on the Moon, with Artemis 3—the first crewed lunar landing since Apollo 17 in 1972—slated to land in late 2025 or at some point in 2026.
In 2021, Bezos unsuccessfully sued NASA over the agency's decision to grant the first contract to SpaceX, but today's news should put him in a better head space. Blue Origin offered a price tag of $5.99 billion, and Bezos offered to spend $2 billion from his own pockets, but NASA ultimately chose SpaceX, much to the chagrin of the Amazon billionaire.
At today's presser, John Couluris, HLS program manager at Blue Origin, said the company will contribute "more than 50%" to Blue Moon, as the project to go to the Moon has been "part of our core beliefs for quite some time," he said. Accordingly, the total cost of the lander is north of $6.8 billion. The company wants to ensure consistent access to the Moon, Couluris said, and Blue Origin intends to make the crewed lander available to both NASA and commercial partners. A series of pathfinder tests, including an uncrewed lunar landing with Blue Moon, will precede the Artemis 5 mission, according to Couluris. The plan, he said, is to provide NASA with a single reusable lander, which will operate in lunar orbit for "multiple years" across "multiple missions."
Couluris said the 52-foot-tall (16-meter) Blue Moon will come in two configurations, one for landing humans onto the lunar surface and the other for landing cargo and equipment. It'll be capable of delivering 30 metric tons in a reusable configuration and 30 metric tons in a one-way configuration. Design specifications require the lander to support 30-day missions to the Moon, but Free said the first several Artemis missions will last only for about a week each. Having two lunar landers will eventually enable NASA to land humans on the Moon yearly, Free added.
Blue Origin's upcoming New Glenn rocket, with its 23-foot-wide (7-meter) fairing, will deliver Blue Moon to low Earth orbit, from where the vehicle will travel to the upcoming lunar Gateway space station parked in a near-rectilinear halo orbit (NRHO). Once in lunar orbit, Blue Moon will stay there, where it will be periodically refueled by a Lockheed Martin-built space tug. NASA's Space Launch System megarocket will launch the crewed Orion capsule to Gateway, from where the astronauts will transfer to Blue Moon. Draper will take care of the vehicle's navigation systems, Astrobotic will provide cargo-related capabilities, and Boeing will develop Blue Moon's docking system, Couluris said.
Walking reporters through the artistic rendering of Blue Moon, Couluris described the high gain antennas up top, the vehicle's large liquid hydrogen tank, and thermal radiators, all of which are perched atop the liquid oxygen tank. The crew module features two large windows, a docking adapter (for Gateway), and an airlock with immediate surface access.
This is admittedly a lot to digest, but the Artemis program is continuing to take shape—and in some very exciting ways. Two human landing systems, a lunar space station, and orbiting fuel depots! Yes, please.
Want to know more about humanity's next giant leap in space? Check out our full coverage of NASA's Artemis Moon program, the new Space Launch System (SLS) rocket and Orion spacecraft, the recently concluded Artemis 1 mission around the Moon, the four-person Artemis 2 crew, NASA and Axiom's Artemis Moon suit, and the upcoming lunar Gateway space station. And for more spaceflight in your life, follow us on Twitter and bookmark Gizmodo's dedicated Spaceflight page.