"Star Wars! Nothing but Star Wars! Give me those Star Wars! Don't let them end..." Just as Bill Murray said it in 1978, we're still saying it today. Star Wars is everywhere these days, with multiple movies and TV shows in the works from Disney and Lucasfilm. This article will give you the most up-to-date Star Wars release dates so you know exactly when every new Star Wars movie or Disney+ show will arrive.
Spoilers of the Week: July 1st
What are the next three movies? What TV shows are coming up? Have any TV shows or movies been canceled? We've got you covered.
This post was last updated on 5/11/2023. 
---
What's the next Star Wars movie?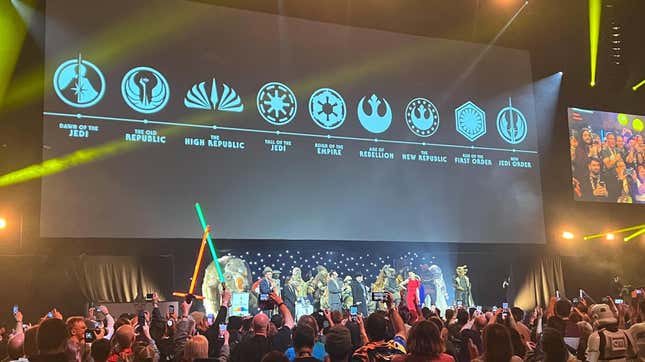 Sharmeen Obaid-Chioy's New Jedi Order Film Film

Release Date: TBD, but December 19, 2025 or December 17, 2027 (In Theaters)
At Star Wars Celebration 2023 in London, Lucasfilm announced that three Star Wars movies are now in the works.
James Mangold (Indiana Jones 5) will direct a film 25,000 years before any known Star Wars timeline about the first Jedi to use the Force.
Dave Filoni will direct a film that's kind of the Star Wars Disney+ Avengers, telling the story of a climactic event meeting the stories of The Book of Boba Fett, The Mandalorian, Ahsoka and more in the time between Return of the Jedi and The Force Awakens.
And Sharmeen Obaid-Chioy will direct a film set 15 years after the events of The Rise of Skywalker following Rey (Daisy Ridley) as she creates a New Jedi Order.
This last one, we think, is the film that Damon Lindelof (Lost, The Leftovers, Watchmen) was co-writing with Justin Britt-Gibson before departing the project. Steven Knight is now reportedly writing.
A week after the news of these films first broke, it began to seem like the Rey project by Obaid-Chioy could be the first one out of the gate.
---
Current Star Wars Projects
Star Wars Visions Season 2
Release Date: Out Now On Disney+ (Watch here)
It's official. On May 4 Star Wars Visions will return for season two. It's an international season with episodes coming from the U.S., Japan, Chile, the United Kingdom, France, South Africa, South Korea, India, Ireland, and Spain. Earlier this year, we got a rundown of the animation houses and the episode titles, which you can read in full at this link, but they include Aardman (Wallace and Gromit), Cartoon Saloon (The Secret of Kells), 88 Pictures (Trollhunters), Studio Mir (The Legend of Korra) and others.
Disney then released the first trailer at Star Wars Celebration 2023.
Star Wars: Young Jedi Adventures
Release Date: Out now on Disney+ (Watch here)
As fans wait for more live-action, Lucasfilm gave them this kid-oriented, but still canon show, set during the era of the High Republic following a bunch of younglings training to be Jedi. And while Yoda does make an appearance, it's all about Nubs.
Upcoming Star Wars release dates
These shows and movies have all been officially announced and are in various stages of production, even if we don't know when they will definitely come out.
Star Wars: Ahsoka
Release Date: August 2023 (On Disney+)
The first full live-action Ahsoka Tano show from co-creator Dave Filoni has finished production and is coming soon. Rosario Dawson is, of course, returning. And our first look at footage confirmed that actress Natasha Liu Bordizzo has been cast as Sabine Wren; more recently, Eman Esfandi was confirmed as Ezra Bridger. At Star Wars Celebration this year we learned Mary Elizabeth Winstead is playing Hera Syndulla, Lars Mikkelsen is playing Grand Admiral Thrawn and Wes Chatham is his right-hand man.
What does that all mean? Well, in the first teaser trailer, you can see she'll make good on the Star Wars Rebels finale and go after Thrawn. And what about the fact she knows Luke Skywalker now? And how does Ray Stevenson's lightsaber-wielding character fit in?
Recently, Filoni told io9 that he's "very pleased" with the show and excited for fans to see this sequel to Rebels in live-action.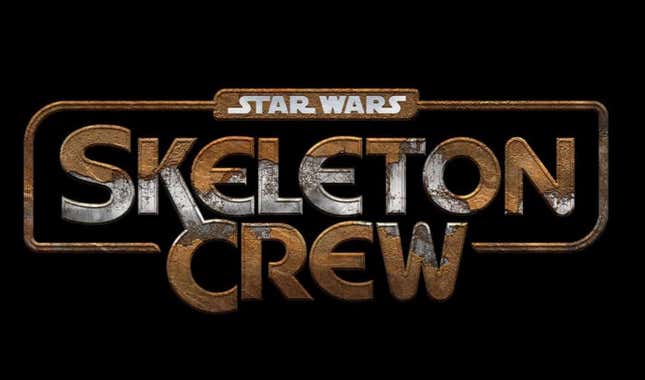 Star Wars: Skeleton Crew
Release Date: 2023 (On Disney+)
Created by Spider-Man Homecoming/Far From Home/No Way Home director Jon Watts along with writer Chris Ford, this mystery Star Wars show is now currently in development. The title for the show was released during the Star Wars Celebration, and was previously internally referred as "Grammar Radio." Celebration also revealed its headlining star, Jude Law.
Set after the events of Return of the Jedi, Skeleton Crew is described as an adventure in the mold of Amblin adventures of the 1980s. The show will be about seeing the galaxy through the eyes of children (but it is not a kids show), and will follow a group of children who get lost in the galaxy and try to find their way home. Jon Watts explained that the series will take place during the same time period as the upcoming Ahsoka series and The Mandalorian. 
Filming on the series began in 2022 and ended in early 2023. And though not much is know about what happens on the show, it has been revealed that The Daniels, the Oscar-winning directors of Everything Everywhere All At Once, directed an episode. Ditto David Lowery, who did the film The Green Knight. Read more about the show here.
io9 saw the first footage at Star Wars Celebration 2023 and you can read about it here. Three of the main stars of the show are played by Ravi Cabot-Conyers, Kyriana Kratter, and Robert Timothy Smit. Rumors suggest it could debut in November or December 2023.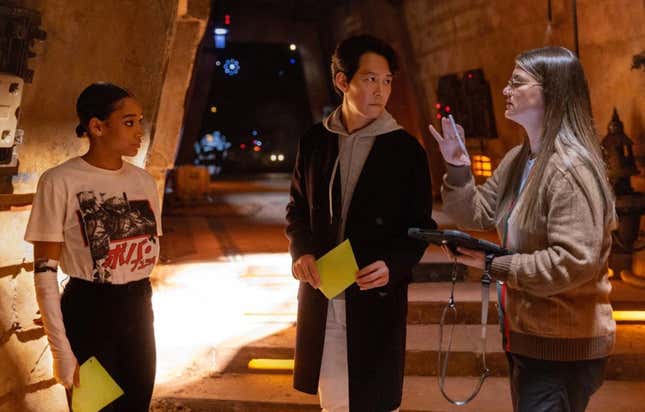 Star Wars: The Acolyte
Release Date: 2024 (On Disney+)
Russian Doll co-creator Leslye Headland will be the first person to bring the excellent High Republic timeline into live-action with this show, long rumored to star Amandla Stenberg before an actual confirmation finally arrived at San Diego Comic-Con 2022—one of few Star Wars bits of news to emerge from the convention.
In an interview in 2022, Headland revealed the show would be about 100 years before the events of The Phantom Menace. "A lot of those characters haven't even been born yet," she said. "We're taking a look at the political and personal and spiritual things that came up in a time period that we don't know much about. My question when watching The Phantom Menace was always like, 'Well, how did things get to this point?' How did we get to a point where a Sith lord can infiltrate the Senate and none of the Jedi pick up on it? Like, what went wrong? What are the scenarios that led us to this moment?"
In an interview released later, Headland spoke about her goals for the series. For Headland, above all else The Acolyte is a mystery, and that mystery is figuring out what is going on in this peak period. It was also suggested that The Acolyte will bring more elements from the Expanded Universe to canon, but what parts that will be incorporated will remain to be seen.
In September 2022, both Jodie Turner-Smith and Squid Game's Emmy-winning Lee Jung-Jae joined the cast, with an official announcement in November adding Carrie-Anne Moss, Manny Jacinto, and others to the roster. The first image, which you see above, was released in November and you can read about the first footage here, which was shown at Star Wars Celebration 2023.
Andor: Season 2
Release Date: August 2024 (On Disney+)
Season one of Tony Gilroy's Rogue One prequel starring Diego Luna showed an excitingly different side of Star Wars. Season two will reportedly be spread across the four years leading up to Rogue One, with four episodes covering each year in Cassian Andor's life until that fateful point. Filming began in late 2022.
At Star Wars Celebration 2023, Gilroy announced the show should be out in August 2024 and showed fans the first footage from the season. Read about it here. Plus, the final episodes of the season/series will take place just days before Rogue One, leading right into that story.
One minor hiccup though, due to the Writer's Guild strike, showrunner and head writer Tony Gilroy left his duties show in May 2023. He's unlikely to return until the Writer's Strike is over, which could cause a delay.
Star Wars: A Droid Story
Release Date: TBD (On Disney+)
Lucasfilm Animation is teaming up with Industrial Light and Magic for this streaming show that will "introduce us to a new hero, guided by legendary duo R2-D2 and C-3PO." We don't know anything beyond that.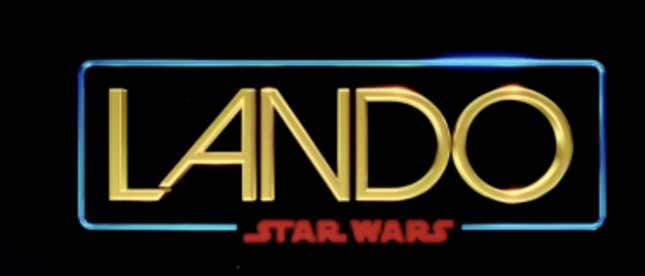 Star Wars: Lando
Release Date: TBD (On Disney+)
We haven't heard much on the Lando front in a few years, but when it was announced we learned that Dear White People creator Justin Simien was developing an "event series" about the character. Not much has been heard since but, in an April 2023 article, Donald Glover hinted that he's still interested and it's still possible in the works. In a May 2023 interview, Lucasfilm president Kathleen Kennedy confirmed it's still in the works.
Untitled Taika Waititi Star Wars Movie
Release Date: TBD
In May 2020, news broke that Oscar-winning director of Thor: Ragnarok would be helming and co-writing along with Krysty Wilson-Cairns. "Taika's approach to Star Wars will be fresh, unexpected, and … unique," Lucasfilm president Kathleen Kennedy said. "His enormous talent and sense of humor will ensure that audiences are in for an unforgettable ride."
There was a time when this was likely to be the next Star Wars film but, after Star Wars Celebration 2023, it seems like it's now on the back burner. That was confirmed by Lucasfilm president Kathleen Kennedy who said the Oscar-winner is still working on the film, it's just going slowly.
In the past, Waititi has discussed some broad ideas of what he wants to do with his upcoming film. Read those below.
Untitled Dave Filoni Star Wars Movie
Release Date: TBD
We mentioned this one above but, at some point, Dave Filoni will be directing a film that is meant to be a climactic event wrapping up stories that have begun on shows he's involved with such as The Mandalorian, Ahsoka, The Book of Boba Fett, Skeleton Crew and others.
Untitled James Mangold Star Wars Movie
Release Date: TBD
This was one of the three films announced at Star Wars Celebration but, like Filoni's, isn't likely to be next. This one is set 25,000 years before the original trilogy and tells the story of the first person to use the Force. We love this idea so much we even wrote about it.
---
Star Wars Movies and TV Shows That Are Currently Unscheduled and Haven't Been Officially Announced, But We Think Are Still Happening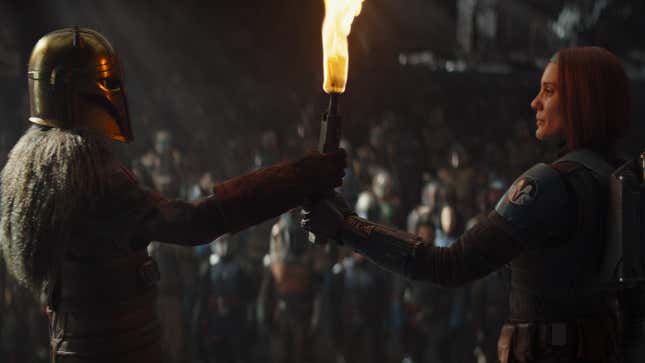 The Mandalorian Season 4
Release Date: TBD
With The Mandalorian Season 3 now in the books, all eyes look ahead to season 4. However, the season has not yet been officially announced. Unofficially though, series creator Jon Favreau said he's already written a fourth season which he probably wouldn't have done just for fun. It's coming. It's just a matter of when.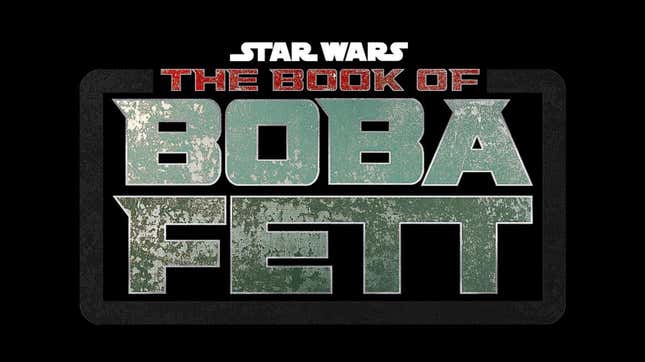 The Book of Boba Fett Season 2
Release Date: TBD (On Disney+)
The Book of Boba Fett season one ended with the implication that we'd see more of these character in the future. But alas, there has been no official announcement... yet. Dive into the making-of season one while we wait and ponder the words of executive producer Robert Rodriguez who said he knows when the character is coming back, but he can't say when.
Untitled Shawn Levy Movie

Release Date: TBD
Shawn Levy, the prolific director and producer behind Stranger Things, Night at the Museum, and Free Guy is gearing up to develop a film in a galaxy far far away. He'll focus on that after completing Deadpool 3, which stars Ryan Reynolds and Hugh Jackman.
---
Star Wars Movies and TV Shows That Are Currently Unscheduled and Probably NOT Going To Happen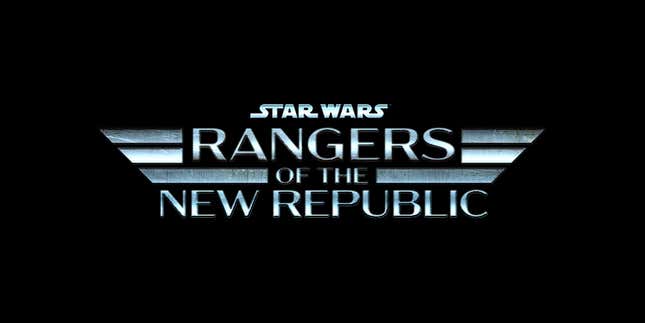 Star Wars: Rangers of the New Republic
Originally announced alongside shows like Obi-Wan Kenobi, Ahsoka, and Andor, Rangers of the New Republic was rumored to be Cara Dune's show which would tie into The Mandalorian and Book of Boba Fett. However, with actress Gina Carano no longer a part of Star Wars, word on the street is this will no longer be happening. Nothing is official though.
Untitled Rian Johnson Trilogy
Let's be honest. Do we think this is happening anymore? Probably not. Rian Johnson has moved on to other things. But, until we hear otherwise (and no one is officially saying), we'd be remiss if we didn't mention that before the divisive release of The Last Jedi, Lucasfilm officially said Johnson would make his very own trilogy. It hasn't officially been canceled yet but, in a new interview, Lucasfilm president Kathleen Kennedy suggested that it's been placed on the back burner as Johnson does other things. With Johnson's next film, Glass Onion, set for release in late 2022 though, he's been quoted saying he still hopes these movies happen. So do we.
Star Wars: Rogue Squadron
For several years, Wonder Woman director Patty Jenkins' film about pilots in the Star Wars universe has been earmarked as the next film. Well, that's no longer the case. After months of rumors suggesting it might move off its 2023 release date, Disney officially took it off the schedule. On December 13 2022, Jenkins said the movie is still in "active development" but recent news suggests it's dead. Lucasfilm president Kathleen Kennedy disagrees, saying in May 2023 it's still on the books.
Untitled Kevin Feige Movie
Marvel Studios President Kevin Feige is best known for helping create the Marvel Cinematic Universe. But as much as he loves Marvel, he loves Star Wars even more. And so it was exciting to hear that he was producing a Star Wars movie and even recruited Loki and Doctor Strange in the Multiverse of Madness writer Michael Waldron to help him. Feige doesn't like to even acknowledge this project though and in a 2022 interview, Lucasfilm president Kathleen Kennedy also tiptoed around the project's existence. Then, a few weeks before Star Wars Celebration 2023, we learned the project is likely dead.
For more, check out io9's list of every canceled (or re-worked) Disney Star Wars project.
---
Want more io9 news? Check out when to expect the latest Marvel, Star Wars, and Star Trek releases, what's next for the DC Universe on film and TV, and everything you need to know about the future of Doctor Who.